Oh shit.
Hey guys! Sup? Anything good happen yesterday? Any quarterbacks with #2 on their jersey play? Any guys named "Johnny" finish  8-15 for 172 yards and 2 TDs? Did anyone have  a 133.9 QB Rating? Was it the highest QB rating for a Browns player since 2007? Is that good? Did he break it? Are we still alive? Has anyone given him an ounce of credit? No? OK. The more things change the more they stay the same.
Johnny played well yesterday, folks, and if you think otherwise "your a idiot." The offense as a whole was OK. 3 offensive touchdowns, a special teams touchdown, and no turnovers. Not going to lose many games like that. We actually had some semblance of a running game and that was pretty pretty cool to see.
The defense harassed Golden Boy Marcus all. day. long. 7 sacks and about a BILLION pressures and hits. It was a rough go for the NFL's new flavor of the week. He looked off his game in the first half and you could tell every time he dropped back to pass he knew in the back of his mind that he'd be getting hit. The Browns mentally beat down Mariota until the clock hit zero. Seeing it live in the stands was delightful. The Browns were able to corral him and make sure he didn't come close to the game he had last week.
Gee, I don't know, maybe it's stupid to crown or rip apart young quarterbacks in their first couple of starts?
1-1 let's look at the damn game tape
The day started off with a few ISIS and Jay-Z jokes
The colors were flying high and proud
Then the keg bowling started
And we took some shots
And a guy jumped off of a roof
We hula hoop harder than you party. In the least pervy sounding way possible, I was absolutely mesmerized by this showmanship
Spotted on the way to the stadium:
Inside the stadium was even more fun when Manziel hit Travis Benjamin on a 60 yard bomb in stride
Crow found his way to the goal line for 6
The defense was allllll over Mariota all game. Welcome to the NFL kid, now go pick up your helmet and shoe
Travis Benjamin caught a punt, dipped and dodged, and scampered his way in the end zone with under a minute left to play in the first half. HUUUGEE to go into half with a 21 point lead. You knew the game was basically over when this happened
I know how it feels when your punter gets embarrassed (Spencer Lanning/Antonio Brown) but if you're the Titans punter do you even show your face today?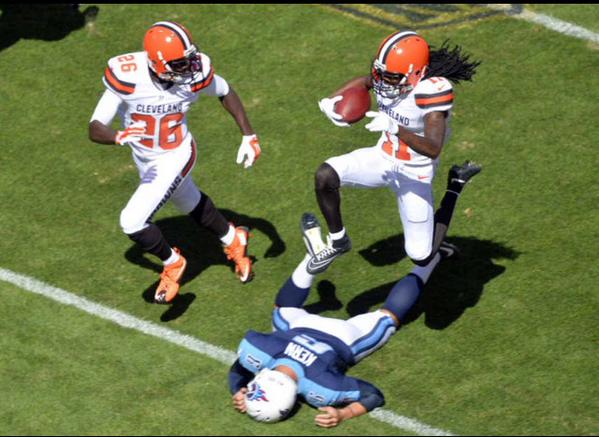 Tennessee scored a few TDs on a couple nice throws from Mariota in the second half (that throw to DGB was a beaut) but the Browns were able to put one last touchdown on the board when this happened:
Big boy play right there at a crucial moment. It was great to be there live.
Johnny Postgame
Couple quick thoughts:
The Muni Lot remains my favorite place in the world
Getting through the gate into the game took about 3 seconds. Very impressed by how much less waiting there is in the lines to get into the stadium.
I wasn't able to re-watch the game but a few defensive players that stood out during the game were Armonty Bryant, Desmond Bryant, Craig Robertson, and Tramon Williams.
Even though they gave up 50 more yards more in week 2, the defense was MUCH better this game.
Giving up 166 yards on the ground is still unacceptable though.
The Browns only had a 24 minute time of possession. Guess that's what happens when you throw 50 & 60 yard touchdowns. Would like to see the offense put together a nice, grind it out 10 play 75 yard scoring drive.
Things seem to be going pretty pretty well with Dwayne Bowe.
Have a day, Rabbit
Johnny has undoubtedly progressed in every game we've seen him play this year. If he can continue to do that…. then we may have a quarterback?
No turnovers, timely throws, 2 long touchdowns, 28 points (special team aided)… what more could you want out of a guy in his 3rd career start?
See you guys next Sunday at 7 am in the Muni Lot
#OnToOakland