Well.
That sucked.
Giving up 29 points and 278 yards passing to a rookie quarterback whom your coach and front office deemed "not good enough" to draft is certainly a shitty way to open your season.
Botched fake punts, snaps over your quarterbacks head, Pro Bowl cornerbacks getting burned…
No rhythm on offense, 12 passes completed, a QB rating of 55…
I don't know what we should've expected but I know it should've been better than what happened on the field yesterday. This was one of the more "winnable" games on the schedule AND THEY STILL LOST BY 19.
–
Let's look at the game tape
ESPN's Charles Woodson bold prediction was that Terrelle Pryor would go for 1,800 yards. Why you gotta troll us like that, Charles?
RG3 and this hairstyle showed up. Should've known at that point that we were in for a rough day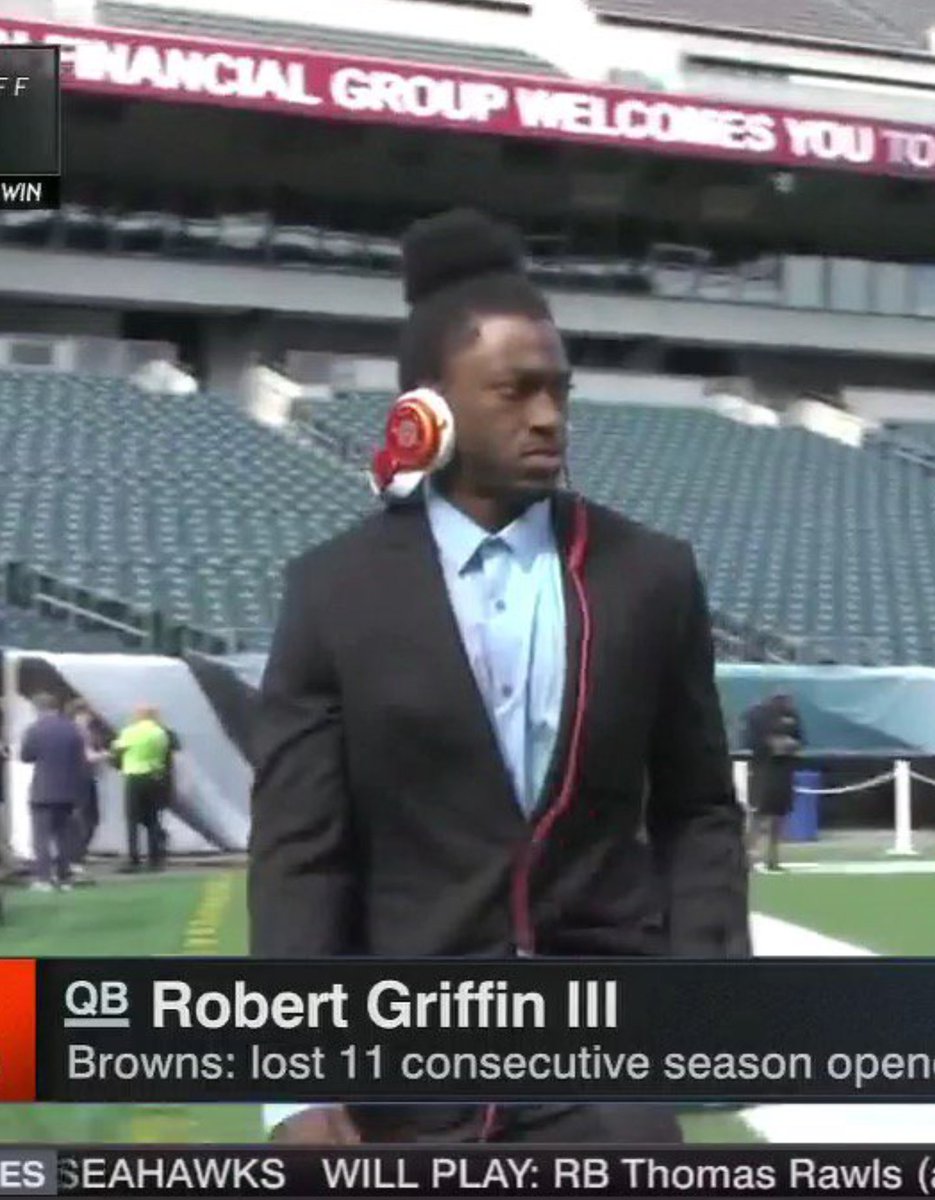 Joe Thomas carrying the flag out might've been the highlight of the whole day… Chances Joe is traded by the end of the season? I'd say 65%
There's a lot of custom jerseys I don't understand but this might take the cake as the weirdest custom jersey I've seen
One of the bright spots of the day
The Browns tried a fake punt that fooled absolutely nobody and actually lost 5 yards
https://www.instagram.com/p/BKOXaonA2WE/
AND THERE WERE ONLY 10 PLAYERS ON THE FIELD
Replacement refs?
Corey Coleman's first NFL catch went for 58 yards.
RG3 flashed a little bit of rookie RG3. Would have liked to see some more read option/designed QB runs/bootlegs & rollouts from our offensive genius coaches
Robert. Why the hell are you doing this?
Jason Peters caught Ryan Mathews in mid air like it was nothing. One of the better stops on an Eagles running back all day.
Couple quick thoughts
-Gary Barnidge was pretty disappointing with 2 uncharacteristic drops. Can't have one of our experienced pass catchers be the one dropping passes.
-Thought our offensive line played pretty well for the most part. Good pass protection and gave RG3 sufficient time in the pocket and clear passing lane
-As for the Cam Erving snap… Shit happens. Sometimes the snap goes over the QB's head. Sometimes the QB drops the shotgun snap. Bad turnovers happen to every team in almost every game. Unfortunately this was the turning point in the game. The Browns cannot let one play ruin the entire game and have everything spiral out of control. Gotta be better than that.
-Twelve consecutive week one losses is actually incredible. Nothing you can really do except laugh.
-Bright spots: Nassib, Ogbah, Pryor, Kirksey, Duke, Coleman
-The Browns had the ball for 20:40 and the Eagles had the ball for 39:20. Gonna be a loooonnnnggg season if the opposing team doubles us in time of possession every game.
-These stupid formations are a lot more fun when they actually work
-Thought the first series for Carson Wentz was too good to be true and that he wouldn't be able keep it up if the plays weren't scripted for him. Whoops! Imagine when the Browns face non rookie QBs this year.
-The Browns have this habit of ruining every other game in the NFL. The Giants-Cowboys game was great and the Patriots-Cardinals game was awesome but I couldn't enjoy either one because the Browns had already ruined my day.
-I don't know why I was prepared for anything different. The Browns are going to stink this year by design but I was not expecting that. That said, I'm going to try my hardest this season to focus on the development of our young players rather than focusing on the final score and outcome of the games. It's going to be hard but if we judge this team only by wins and losses I might actually lose my mind and swear off football altogether. This team is going to lose and lose a lot.
Gonna need a lot of alcohol this season
See you next week in the Muni Lot.
We're on to Baltimore