1.3 million friends gathered in downtown Cleveland yesterday to celebrate the city's first championship in 52 years. We had people scaling buildings, hanging and falling from buildings, people eating poop (allegedly), JR reenacting the Lion King, Kyrie doing the Running Man, and LeBron swearing up a storm.
Let's look at the game tape
---
Maybe the best championship parade picture of all time?
TURN THE FUCK UP
Dan Gilbert apparently doesn't know who Steph Curry is
Up close and personal with The King
Let's check in on how JR Smith's parade went:
Coolest moment ever. JR Smith holds up a kid in the middle of the parade. Of course someone added the Lion King soundtrack to it.
Who needs a shirt when you have a ring? Not JR
According to the Internet, JR took a fans phone, snapped this picture AND wrote this caption. Legend.
He's got my vote
A couple buddies got some butt tattoos
Hipster Tito dropped a nuke on the idiot pundits
MGK performed in front of over a million people and swung from traffic lights
The streets were packed
Needed to cool off a little
I'd suggest sunscreen for next year's parade
Lotta people in trees yesterday
Kevin Love hasn't taken that championship belt off for 3 days
Oh, and he also brought SI Swimsuit model Kate Bock along with him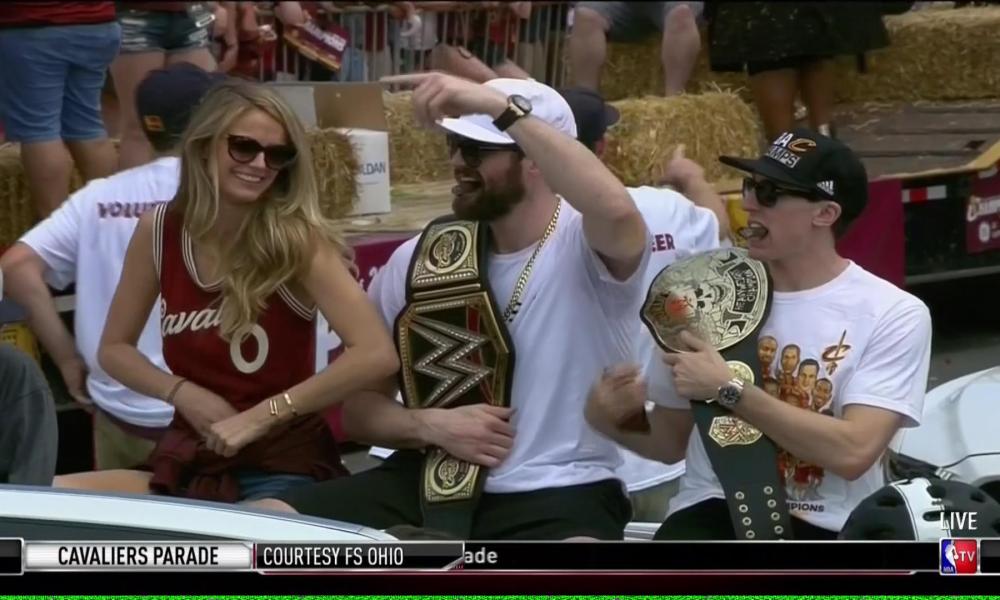 WE ARE THE CHAMPIONS
The Other King
I'm pretty sure Mo Williams danced through the entire parade
The Mall and Lil Kev
A guy climbed a tree
Tristan had squirt guns on his float
Get that weak stuff outta here
Fuck up some commas
Kyrie greeted the crowd with an enthusiasm unknown to mankind
Then he busted out a quick Running Man Challenge
A girl dropped from the Heinen's building and was caught by the people
And now for the overhead shots
This guy wasn't missing this parade no matter what
A fan may or may have eaten a little poop. No one knows if it was actually poop. Could have been mud. Yep, that's it. A fan ate some mud. Big deal.
The Free Stamp turned into a giant chair
Here's a view from the free stamp (via Reddit)
Tristan Thompson verbally posterized Draymond Green
Channing Frye was a little sauced and he had the mic drop of the day
Champs
Here's LeBron's entire uncensored speech