So by now everyone has seen LeBron as Prince and the rest of the Cavs players dressed up in their Halloween duds.
Let's grade each player's costume:
LeBron as Prince: 10
https://instagram.com/p/9iAXZ2OPFA/
If LeBron had only donned the Prince outfit he would have gotten around a 50/10, but the fact that he put on a concert as Prince makes this a no brainer. LeBron won Halloween. Ever seen Jordan sing "Purple Rain?" Didn't think so.
---
Kevin Love as Jackie Moon from the movie Semi Pro: 9
Perfect costume for KLove as the tall white basketball player. A point deducted because I think you can get the same costume at one of those "Spirit" pop up Halloween stores you'll see in deserted shopping centers in Northeast Ohio. At the party Kevin took home the "Better than the real thing" during the costume judging.
---
Mo Williams as Freddy Kruger: 8.5
https://instagram.com/p/9i8xiUNfCo/
https://instagram.com/p/9hMMbMnfaj/?taken-by=mogotti25
Pretty terrifying tbh. Anytime anyone dresses as Freddy Kruger I get kind of freaked out. A point and a half deducted for lack of originality.
---
Kyrie as a Jedi: 9/10
https://instagram.com/p/9jCdC3HfQE/?taken-by=mogotti25
Boots, belt, lightsaber. Uncle Drew makes a good looking Jedi.
---
Joe Harris and his girl as that dentist and Cecil the Lion. 10/10.
https://instagram.com/p/9h5AVJxCf_/?taken-by=joeharris__
Love Joey Buckets not caring about being PC. Maybe my favorite costume of the night. Pretty surprised to see no one has bitched about this yet.
---
Delly as a dentist: 8/10
Because having Delly guard you on the basketball court is like pulling teeth. *deactivates everything*
---
Tristan as Clark Kent: 10/10
Huge fan of Tristan in whiteface. Huge fan. When black people do whiteface it's funny, deal with it.
---
JR Smith as a baby: 10/10
https://instagram.com/p/9jCa0mnff7/?taken-by=mogotti25
You cant look at these pictures of JR Smith dressed up as a baby and not laugh. Wonder what's in that bottle…
---
Shump as Pinky from the movie Friday After Next: 10/10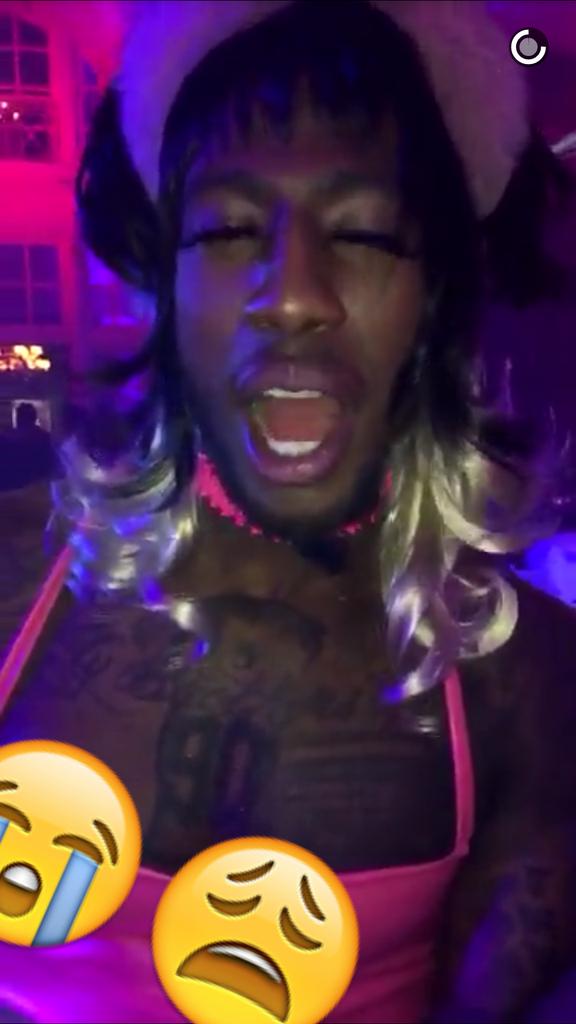 Shump won "best overall costume" for his get up. It takes a lot of balls to wear this as a guy.
---
Jared Cunningham as a Minion: 10
Jared Cunningham is 6'4. When a 6'4 dude dresses up as a Minion with overalls and goggles he gets a 10 no questions asked.
---
Varejao as some skeleton thing: 7
https://instagram.com/p/9hartKNF6_/?taken-by=varejaoanderson17
https://instagram.com/p/9hqar3NFxm/?taken-by=varejaoanderson17
Not really a fan of people doing this because it seems like 90% of girls do this as a costume nowadays. Andy gets docked a few points for having a basic white girl "costume."
---
This picture: 1,000,000/10
---
This Movember picture: 1,000,000/10