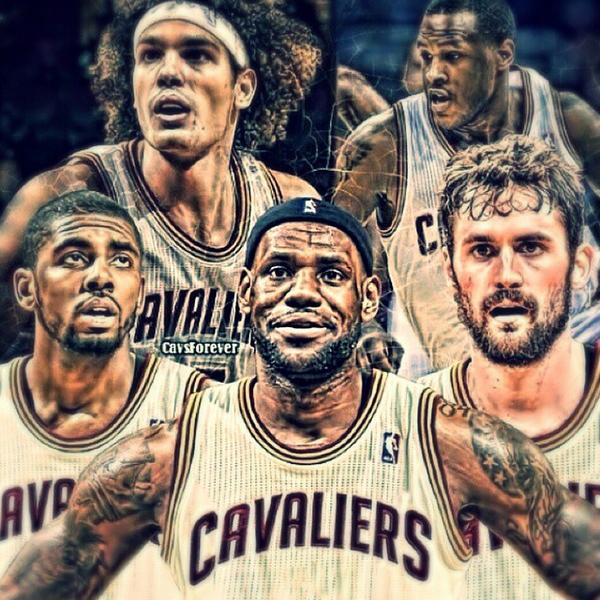 At first glance you'd probably think "Shut the hell up, Mike. You homer." But let's look a little deeper. Obviously if this were an Olympic year and not the FIBA championships, Team USA would be heavily favored. But this isn't the "Dream Team" and it's definitely not the "Redeem Team."  With the losses of Paul George and Kevin Durant plus the heavyweights such as Lebron, Dwight Howard, Kevin Love etc not suiting up for the Red White and Blue; this becomes a much more interesting matchup. If benches were included, Team USA would beat the Cavs. But since we're talking just starting 5, the lineups look like this:
TEAM USA    
(2013-2014 stats in parentheses)                         
Kyrie Irving  (20.8 PPG, 3.6 RPG, 6.1 APG, 1.5 STLPG, 0.32 BLKPG)
Steph Curry (24.0 PPG, 4.3 RPG, 8.5 APG, 1.6 STLPG, 0.2 BLKPG)
James Harden (25.4 PPG, 4.7 RPG, 6.1 APG, 1.6 STLPG, 0.4BLKPG)
Kenneth Faried ( 13.7 PPG, 8.6 RPG, 1.2 APG, .9 STLPG, 0.9BLKPG)
Anthony Davis (20.8 PPG, 10 RPG, 1.6 APG, 1.3 STLPG 2.8 BLKPG)
Team totals: 104.7 PPG, 31.2 RPG, 23.5 APG, 6.9 STLPG, 4.62 BLKPG
2014-15 CLEVELAND CAVALIERS
Kyrie Irving- (20.8 PPG, 3.6 RPG, 6.1 APG, 1.5 STLPG, 0.32 BLKPG)
Dion Waiters- (15.9 PPG, 2.8 RPG, 3.0 APG, 0.9 STLPG, 0.24 BLKPG)
Lebron James (27.1 PPG, 6.9 RPG, 6.4 APG, 1.6 STLPG, 0.3 BLKPG)
Kevin Love (26.1 PPG, 12.5 RPG, 4.4 APG, 0.8 STLPG, 0.5 BLKPG)
Anderson Varejao (8.4 PPG, 9.7 RPG, 2.2 APG, 1.06 STLPG, 0.6 BLKPG)
Team totals: 98.3 PPG, 35.5 RPG, 22.1 APG, 5.86 STLPG, 1.96 BL
In player vs player matchups I took each player's average stats vs. the team of the guy they're going against from the 13-14 season. Example- Lebron's stats vs Houston (James Harden's team) Clearly this doesn't mean that Harden was guarding Lebron all game, but it's the closest thing we'll get to true head-t0-head stats.
Kyrie Irving vs. Kyrie Irving
Winner: TIE. Obviously.
Steph Curry vs. Dion Waiters
Steph Curry vs Cleveland: 28 PTS, 6.5 REB, 9.5 AST, 2.5 STL, 0 BLK
Dion Waiters vs Golden State: 13 PTS, 3 REB, 4 AST, 0.5 STL, 0 BLK
Winner: Steph Curry. No brainer here. Overall way better in every category, and overall a better player.
James Harden vs. Lebron James
James Harden vs. Miami: 25.5 PTS, 3.5 REB, 6 AST, 1 STL, 0 BLK
Lebron James vs. Houston: 23 PTS, 3 REB, 6 AST, 2.5 STL, 0 BLK
Winner: James Har-… No. Lebron wins. Versus Everyone.
Kenneth Faried vs. Kevin Love
Kenneth Faried vs. Minnesota: 14 PPG, 6.5 REB, 0.25 AST, 2 STL, 1.5 BLK
Kevin Love vs. Denver: 28 PPG, 13.75 REB, 4.25 AST, 1.5 STL, 0.5 BLK
Winner: Kevin Love. Not even close. Best power forward in the NBA. Faried would have barely made the team if Love had tried out for Team USA this year.
Anthony Davis vs. Anderson Varejao
Anthony Davis vs. Cleveland: 23.5 PTS, 10 REB, 2 AST, 1.5 STL, 5.5 BLK
Anderson Varejao vs. New Orleans: 4 PTS, 9 REB, 0 AST, 1 STL, 1 BLK
Winner: Anthony Davis in a massacre. To be fair, Anthony Davis's best game against the Cavs came when Varejao didn't play. Imagine Davis to be around 20 and 10 if he and Varejao faced off today.
Final Tally-
Team USA- 2 wins 1 tie
Cleveland Cavaliers- 2 wins 1 tie
Team USA would have a definite advantage in team shooting and interior defense. But who guards Lebron? Who guards Love? James Harden is literally the worst defender in the NBA and Kevin Love abused Faried and the Nuggets in every game they played last year. Those two huge advantages overshadow whatever favorable matchups Team USA would have against the Cavs.
But according to the final tally this would be a tie, right? Not so fast, my friend. When you have the best basketball player on the planet… along with the best power forward in the league your starting five has a chance to be as good as any team of players assembled. It's actually kind of a no brainer. Like, I didn't really NEED to spend two hours looking up stats and matchups for each player because I could have just told you "Cavs win. Easily."  But now there's proof and numbers to back me up. So congrats Cavs fans, your local team is better than your country's national team.
PS- This graphic was circulating around the internet in the Spring. I'd say they pretty much nailed it.