The hot button topic around college football right now is Ohio State and their schedule. Not how they're the best team in college football. Nope, not that. Their schedule. People all over screaming from the mountaintops that "blah blah blah Ohio State plays cupcakes and the Big Ten is weak!" Ya know, a totally new and fresh argument that no one has ever made before during past seasons. But what's weird about this go-round, is that there wasn't really any schedule chatter leading up to the Buckeyes nationally televised game against Virginia Tech. It was universally known that Ohio State was the best team in college football and thus was the reason they were the unanimous #1 team in the AP poll. Sure there may have been some mobile home living Alabamans on Twitter bitching about schedules before the season. That's fine. But no really prominent media voices or coaches brought up the schedule until millions across America saw the beatdown on Monday night.
So what happened and why are people bringing it up now? Why is this becoming a topic of conversation even though the season is only 1 week old? Is it because Ohio State looked like they were playing a video game on Monday? Is it because the SEC is so used to being the #1 team that they don't know how to react when they're not the best? Are people jealous that the Buckeyes are by far and away the biggest story this college football season? Are they sick of seeing Cardale Jones and Urban Meyer's faces as the lead story on Sportscenter?
Why is this becoming a thing? Jealousy? Do the people of the South have too much time on their hands? Or is it that when they watch Ohio State they get flashbacks of January 1st when Ohio State depantsed Alabama, gave them a swirley, and shoved them in a locker and embarrassed the entire conference? Do the fine fans of the SEC see Cardale Jones throwing passes to Mike Thomas and Braxton Miller and think "There's no way we could stop that." Do they still get recurring nightmares of Zeke Elliot's 85 yard touchdown run? Why is this happening and why is it happening only one week into the season?
Why is Bret Bielema (OF ALL PEOPLE) complaining about Ohio State's strength of schedule?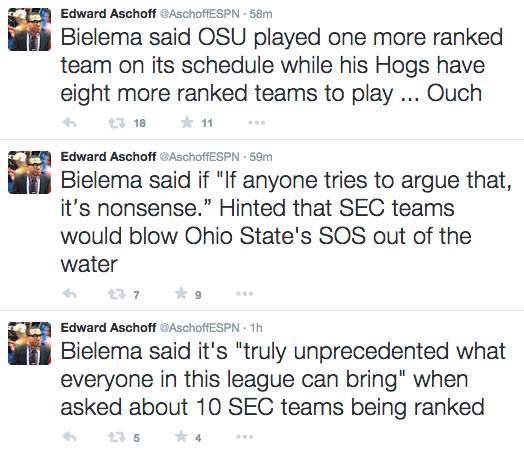 Oh weird! Clay Travis said something SALACIOUS!
I don't know, guys. I just don't know.
Alright, time to go Rabbit vs. Pappa Doc.
Yes. The out of conference schedule could be better. The games were scheduled years ago when Virginia Tech was in the midst of making BCS bowl game after BCS bowl game.
Yep. The Bucks probably won't have a close game till November 21st.
Yes. The Big Ten is a two horse race with Michigan State and Ohio State.
Yes. I'll listen to your argument about TCU not making the CFB Playoff last season.
Yes. Your argument is pointless and annoying.
Yes. ESPN jizzes themselves every time the SEC scores a touchdown, Nick Saban farts, or perennial SEC doormats  play each other in the Egg Bowl. (lol remember when Mississippi was ranked #1 and Ole Miss was ranked #3 in the country? Good times)
No. I don't give a shit what Greg McElroy or Paul Finebaum say during a pre or postgame show.
Yes. Ohio State has the most talented offensive team in the country. And that's not debatable, they are the best.
Yes. Every year the SEC gets over-ranked at the beginning of the year.
Yes. Ohio State has one of the best defenses in the country.
Yes. Ohio State is the best team in all of college football.
So stop getting mad at what Clay Travis thinks. Stop freaking out when Mark May goes on a national platform, says something dumb, and embarrasses his family name. I won't care when Dennis Dodd wipes the Funyuns dust off of his fingers, crawls out of his hole, and writes his inevitable "Ohio State has a cupcake schedule" article.
I'm looking forward to it.
I'm not going to fret when "WarEagle69" gets up from his pull out couch and talks shit on the SEC message boards. I'll smile and cackle when I hear Phyllis or Harvey Updyke call into Finebaum's show on their rotary dial landlines and complain about the Big Ten.
I love that the Buckeyes are on the minds of the SEC honks 24/7. I love that they'll put up 50-60 a game and rest their starters by the third quarter. I love how mad Bret Bielema is. I love that even though it's universally agreed that Ohio State has an easy schedule, it's still universally agreed that they're by far and away the best team in football this year. I love how talking about last year's Sugar Bowl makes Nick Saban squirm. I love the amount of real estate Urban Meyer's owns in every person's head who lives under the Mason-Dixon Line. I love how there are two Big Ten teams in the top five of the AP Poll and only one SEC team.
Everything that's uttered by anyone who lives in the south during these next few months means next to nothing. They're just trying to troll, they're jealous, or they've just realized that Urban Meyer and the Buckeyes own their soul and there's nothing they can do about it.
The SEC is dead, guys.
The Buckeyes are the best team in the country.