So as most of (some of) you may know I was in San Diego last weekend for a little vacation and to watch our beloved Brownies find a way to lose to the Chargers. Damn, what a kick in the dick that was.
If you've never been to San Diego lemme tell you, it is beautiful. This was the furthest west I've ever been and my first time in California. Every day there was 80 and sunny with no clouds (except Sunday when it rained for like the 8th time the entire year).
Our plane got in around noon on Thursday and for the first night 4 of us rented a boat in the Sun Road Resort Marina right outside of downtown. Not a boat to drive around in mind you, but a boat to sleep on. Aside from constantly having to worry about hitting your head on something, the community bathrooms at the dock and no air conditioning, the boat was a success. I think I was born to live my life on a boat Shane Falco-style.
During the day we headed to Coronado Beach and ate fish tacos, fried pickles, and drank some Coronado Avenue Orange Wit. Kind of like a Blue Moon but better because everything is better when it's sunny and you're by an ocean. We checked out the beach and played frisbee like typical Cali bros until our arms fell off.
I also decided to purchase the hottest shirt that side of the Mississippi. When the cashier was ringing me up she said "This is the first shirt like this we've ever sold, no one has ever bought this before."  Pretty awesome to know that I was basically the only one in the world to own this piece of clothing.
Yes those are Pandas and Killer Whales
At night we hit up the Gaslamp District and I fell asleep in the Uber on the way to the bar and the way home from the bar. That's what happens when you wake up at 4 am EST and go out in San Diego at 11 PST. Whatever, it was my birthday and people aren't allowed to make fun of you or Snap Chat you while you're asleep in the back of a car. Oh wait.
We then played the longest game of Jenga ever recorded and Bottlegate even got some free marketing out of the deal.
Friday morning my buddy Ben and I woke up and kayaked around the marina and into the San Diego bay.
We rolled up to the house we'd be staying at for the next 3 nights at about noon. It was in this place called Old Town which was apparently the first city in California. All 14 of us. In one house. Basically The Real World San Diego without Cameron, Brad, and that lunatic Frankie. The backyard was absolutely stupid and I didn't deserve to be there. A jacuzzi, inground pool, waterfalls, lion heads spitting out water… it was awesome. I'm used to above ground pools that are 3 1/2 feet deep, so this beauty was wayyy out of my league.
Played A LOT of beer dye on the roof. I've always played it standing up so the whole sitting down part really messed with my game. Needless to say I didn't score many points and was an embarrassment to my family name.
Friday night rolled around and we ordered $150 worth of San Diego pizza. I don't know if they used some crazy unheard of ingredients, but like I said before, everything is better when you're in California, especially this pizza.
Again we went to Gaslamp for the night. We started at this awesome rooftop bar where we met a few Browns fans and ended up at a club that was playing some 90s and early 2000's hip hop. Too Close, Party Up, Return of The Mack, and Ja Rule stick out. The best part of being at this bar was that there was this 25 year old dude aggressively making out with this chick in her late 40s. She was trying to eat his face and at one point she licked him in the middle of the dance floor. It was awesome and disgusting at the same time. I guess that's just San Diego life though, love knows no age.
On Saturday the beers started flowing at 10:30 am in the hot tub. I looked around and noticed the backyard was missing something. Something seemed off.
Ah, that's better.
By around noon we were all hopping into an Uber and on our way to Pacific Beach for some kind of beach festival. Pacific Beach is your Classic beach town. Surfer bros and hot girls everywhere. Just a chill vibe throughout the whole place. We walked out onto the pier to watch the surfers not surf. Seriously. They just kind of floated there and didn't do much.
One thing I noticed was that there were a lot of "backer" bars in PB. Oklahoma, Nebraska, Wisconsin, Chicago Bears, etc. The Big Ten runs strong on the west coast. None of that bum ass SEC shit though because let's be real, they couldn't afford the plane ticket.
We posted up at the 710 Beach Club to watch the first half of the Buckeyes game. 3:30 ET kickoffs are an absolute treat on the west coast. The first half consisted of tequila shots, Tito's vodka, Fireball, and beers. The Bucks didn't look very good in the first half but I was pretty buzzed so it seemed like I was watching The Greatest Show on Turf. At halftime we headed out to the beach to go swim in the waves and toss the football. In hindsight we probably shouldn't have went to where the waves were about 5 feet over our heads because we were all pretty drunk.
We came back into the bar to learn that Zeke had something like 275 yards rushing but OSU was still only up by a touchdown. Well, after IU's final pass fell incomplete the bar exploded with about 40-50 (remember we had 14) Buckeye fans clapping and going nuts. My friend Will (who has actually written an article or 2 on this site) decided to buy celebratory Fireball shots for the group.
We piled in an Uber and departed for our Old Town home shortly thereafter when maybe my favorite part of the trip happened. I had spotted a nicely endowed female walking down the street and I must have made some sort of face because the next thing I know the Uber driver laughed and reached back for a handshake because he has spotted her too. No one else noticed what was happening except me and our Uber driver. It was at that point that Fernando and I had formed an unbreakable bond.
When we got home half of our group went to go take naps and half of us stayed up contemplating when we were going to make the trip to In N Out Burger. It's always good to coat your stomach with a burger and fries before a Sunday of tailgating. Everyone knows that.
Sunday
Most of us woke up around 5:30-6:30 am (still used to the East Coast time) and got to catch some of the Jets-Dolphins game in London. Holy shit the Dolphins are a dumpster fire. We cracked beers at around 7:30 and planned on catching the 8:37 train on the way to Qualcomm.
Well. My girlfriend (yes I have a girlfriend, sorry to disappoint the 3 girls that sometime frequent this website) comes to the realization that she can't find her wallet. We search the bedroom, all over the living room, kitchen, etc. but it's nowhere to be found. We call our Uber driver and sure enough she left it in the car when we went to In N Out. He has it but is 20 miles away. Sigh. We miss the train but he ends up dropping off the wallet at our house and we catch a ride to Qualcomm Stadium.
This stadium is a DUMP. I cannot stress that enough. If Municipal Stadium were standing today it might be in better condition than Qualcomm. The whole landscape of the stadium is just… blah. It's in a valley of a normal suburb and looks super out of place. It's like if someone just decided to drop a 71,000 seat stadium right in the middle of Valley View. It's surrounded by parking lots and this is where most of the Chargers faithful do their tailgating. The Muni Lot takes a huge dump all over this place.
Instead of hanging around with Charger fans we make our way to the Browns Backers tailgate to be with our people. The tailgate is located on some sort of practice field and is roped into 2 sections; a section for people who brought their own alcohol and a section where you can buy alcohol. Within 5 seconds I feel home. Bud Lights are flowing, music is playing, people are laughing, and guys are sneaking behind giant shipping containers because they don't want to wait in the long line to pee. It really is the Muni Lot west but without the buses and concrete. We run out of beer but have reinforcements in the form of 2 giant handles of Tito's vodka to tailgate with. Woof.
There were A LOT of Browns fans at the tailgate/scattered outside of the Chargers stadium. I know there's a strong contingent on the West Coast but I noticed a lot of familiar faces that made the trek from Cleveland. It's actually incredible that there are so many loyal Browns fans across the country even though the team has played like complete dick since 1999.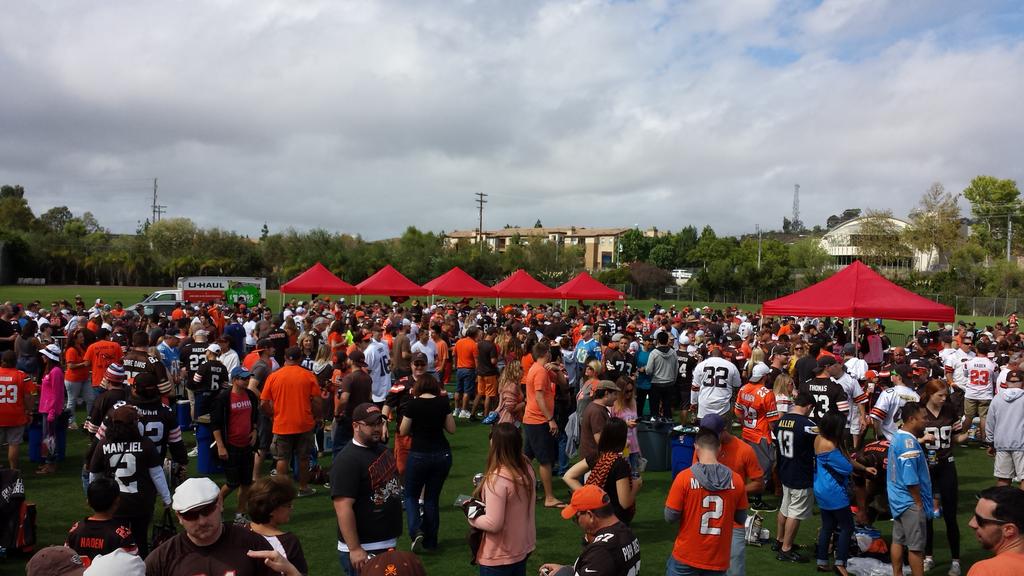 Inside the stadium was OK. We tried to chirp all the Chargers fans walking into the stadium but for some reason they wouldn't take the bait and stayed silent. Our seats were about 5 rows up in the end zone. We stood during the opening kickoff (THE OPENING KICKOFF) and the very polite lady Chargers fan behind me started screaming "Sit down! Sit down! Sit the fuck down!" So obviously I didn't sit down until about the 10th play of the game. Showed her, huh? We later found out that she WAS FROM CLEVELAND… and was wearing Chargers gear. She sucked. She also didn't appreciate me screaming out "Melvin Gordon is a BUM, you guys wasted a draft pick on him!!" every time he touched the ball.
The game itself was pretty uneventful. I tried trolling a few fans but honestly I think they just don't care about their team. I mean, they live in San Diego and have everything. It's not like Cleveland where we latch onto our teams and live and die with every win and loss. San Diego fans are much more laid back because hey, even if their team loses they can just go to the beach and get over it. I got this vibe during the whole trip, not just inside the stadium. We talked to bartenders, Uber drivers, random people etc. leading up to the game and half of the people didn't even know who the Chargers were playing. It's odd to me that the Chargers have had a lot of success in the 2000's and people still aren't THAT interested in them.
I made friends with the 2 dudes seated behind me and they couldn't have been less interested in the game. Also I think they were really high. The one dude was a Lakers fan, didn't like the Chargers, and would celebrate every time Travis Benjamin caught a pass because he was on his fantasy team. I liked him until he told me the Miami Heat were going to win the East this season. What an idiot.
TL;DR- San Diego was fun, Browns fans are sweet, Chargers fans don't really care.
Here are some more pics of the trip
PS- Definitely should have updated this daily on the trip. Trying to recall everything a week after is pretty hard, probably forgot a lot of stuff.