Never a doubt.
Is it too early to anoint Josh McCown as the greatest Browns QB of all time? Because I think I'm just about at that point? Three straight games with 300+ yards and FOUR HUNDRED FIFTY SEVEN yards (Browns single game reg. season record) 2 TDs and a rushing TD yesterday is nothing short of incredible. With our defense not being able to stop the Dillon Panthers JV offense, it's imperative that the offense scores points and Josh is doing just that. Hats off to him because I don't think any of us saw this coming. Is he the next Rich Gannon? Probably not, but I'm going to enjoy how he's played these last few games and not bitch like I usually do. Football is fun when you score points. Yesterday was fun.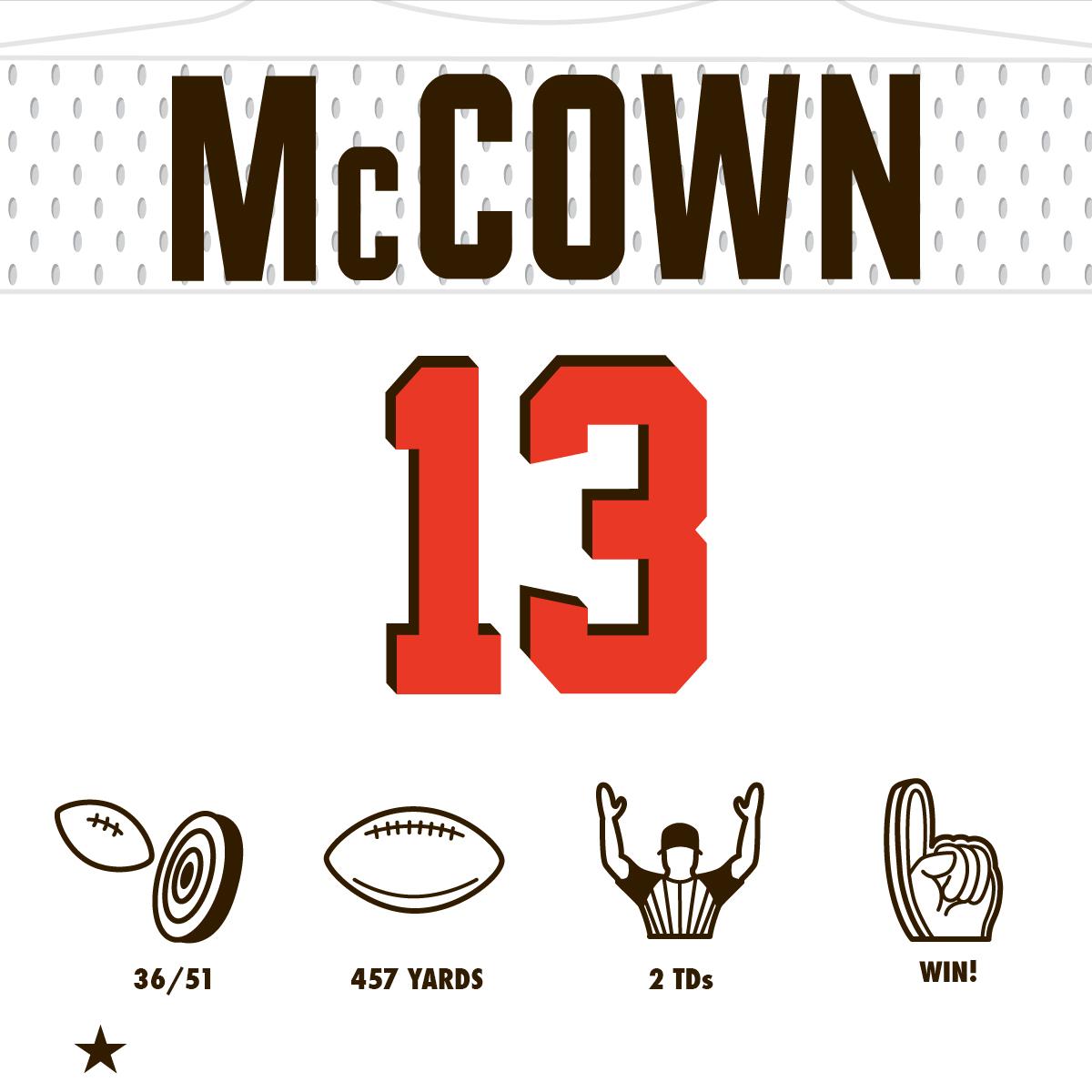 How about our boy Big Play Barnidge? Every time the Browns needed someone to step up and make a catch on third down it seemed that the ball always found a way into Gary's mitts. The ball found it's way into BPB's (Big Play Barnidge) hands 8 times to the tune of 139 yards and a nuts to butts touchdown.
So now the Browns sit at 2-3 with their last 3 games decided by an average of 4 points. Could easily be 4-1. Could easily be 1-4. Let's look at the damn game tape.
Smokin Joe Flacco gave us the ol' Oopty Oop
Gary Barnidge made the catch of the year. Who needs a good set of hands when you can catch touchdowns with your nuts and butt?
Crow caught the ball, shook some dudes, broke some tackles, and dove his way into the end zone and our hearts
The game went to overtime. The Browns forced the Ravens to punt, got the ball, shoved it down Baltimore's throat, and set up Travis Coons for a game winning field goal
And Jimmy D's call:
And we got to see Pettine's Vinegar Strokes
Couple quick thoughts
Our run defense continues to be an issue. I don't know if it's scheme, personnel. playcalling, etc. Something needs changed STAT. Our OLBs don't keep contain, our ILBs don't fill gaps, our safeties don't come up and take bad angles… It's so frustrating knowing that so much time and effort has been put into stopping the run this season and they're still TERRIBLE at it.
Someone tell Danny Shelton to turn it down jusssst a little bit. 2 personal fouls in the second half is not a good look (the 1st one was kind of BS though)
Armonty Bryant continues to be a bright spot on defense.
I think the Browns are finding an effective way to use Duke Johnson. If we can get 15 touches and 77 total yards out of him per game I'll be very very happy.
Pass protection has been kind of spotty lately. Broncos have a couple of stud pass rushers in Von Miller & DeMarcus Ware (if they're healthy). Let's hope this gets shored up in time for next week's game.
TRAVIS MOTHERFUCKING COONS
Pettine almost bungled this game  with his clock management late in the fourth quarter.
Why are we wasting a roster spot on Dwayne Bowe?
Still can't believe I saw a Browns quarterback throw for over 450 yards.
Not elite.
I dunno, guys… the Browns always seem to win one game every year against a team that they're not supposed to beat. Denver looks incredibly beatable and maybe, just maybe, the Browns aren't as shitty as we all thought. Sunday should be (hopefully) interesting. See you in the Muni.