You knew it was coming. As Browns fans we're conditioned to expect the worst and hope for the best. You knew they wouldn't capitalize after Mingo's interception in overtime. You knew deep down that somehow, some way they'd fuck it up. And they did. Bad.
This one hurt, not gonna lie. The Browns had opportunity after opportunity for someone to step up and win the game… but no one did. It's just so disappointing knowing how close the Browns were to winning their second game in a row. One more loss this season decided in heartbreaking fashion. Instead of 3-3 we're 2-4 and falling further and further behind in the division.
Let's look at the game tape
Dwayne Bowe was inactive. At this point it's more likely Swagger gets in the game before D-Bowe.
Karlos Dansby picked off Peyton Manning (don't worry though, the Browns obviously didn't capitalize)
The Broncos know Peyton can't throw a spiral longer than 7 yards so they had to resort to cheating and run pick plays
And Denver scored the first touchdown of the day on a pick six by Aqib Talib. Not a very good decision by 13 Gauge
But then on the first drive of the second half McCown turned to ol' faithful Gary for 6
And the fine folks at DirecTV took notice. Wait… Hoyer? #NailedIt
For awhile the only thing the broadcast talked about were the pigeons on the field
Barnidge scored another touchdown to make it 16-14. You cannot stop Gary Barnidge, you can only hope to contain him.
This kid appeared on the TV screen and I immediately felt the urge to beat up a 9 year old. I bet his parents aren't even Browns fans. Little troll.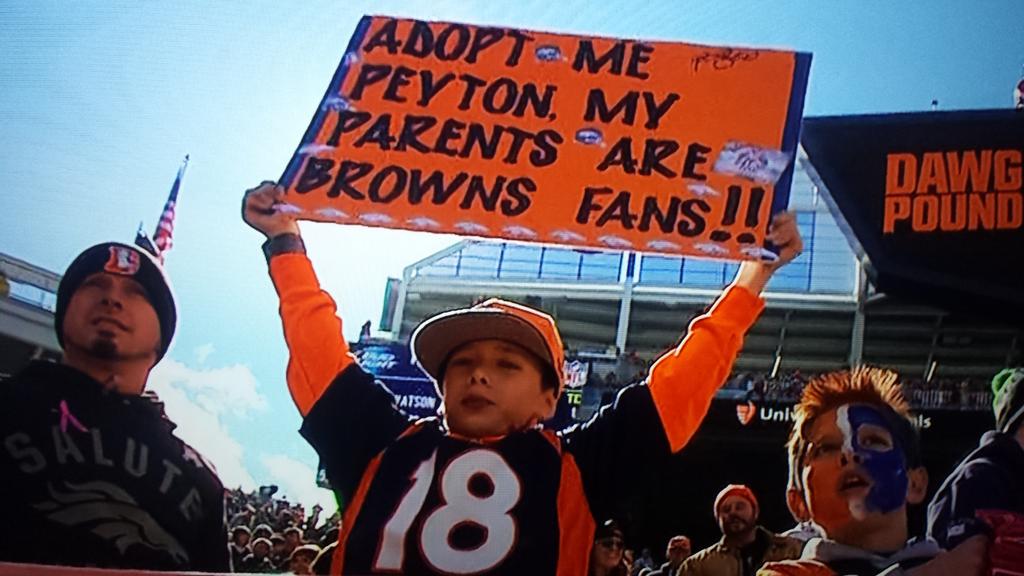 Peyton Manning jacked up our strong safety. Yes, a 39 year old QB put the hardest hitter on our team on his ass.
Then the next play Karlos Dansby got his second interception of the day. This time he returned it for a touchdown and the Browns took the lead!!
Which they held on to for exactly 14 seconds.
A couple things happened here and there that left the Browns and Broncos tied at 23 with a little over a minute to go… Browns ball. Driving to score and sneak out a win. Things are looking good!
And then this happened. I don't think I'm exaggerating when I say this is right up there with the Weeden flip pass as one of the worst plays a Browns QB has made in the past 10 years.
You'd expect that out of a rookie but not a 36 year old quarterback. Just take the sack, throw the ball into the dirt, or check the ball down to Isaiah Crowell who comes open at the end of this play and looks like he doesn't have anyone within 10 yards of him.
Emmanuel Sanders almost kind of caught a pass down the sideline that was ruled incomplete and the game went to overtime.
Broncos win the toss and on their drive this happened. Mingo did something!!
Browns ball! Browns ball! Let's capitalize, win this game, and get to 3-3!
Oh.
The Broncos eventually got the ball back, drove down the field through our Swiss cheese defense, and kicked a field goal to win.
Broncos 26 Browns 23.
Sorry bro, not today:
Couple quick thoughts
For so much talk in the preseason about how elite our offensive line was, they've really underwhelmed so far. Our pass blocking is poor and our run blocking is POOR. The Broncos were without 2 of their better pass rushers in DeMarcus Ware and Shane Ray and the Browns still gave up 4 sacks.
On the other side of the ball, the Browns pass rush registered a whopping 0 sacks on the super mobile Peyton Manning. I know it's far too early to even think about the draft but one of our glaring weaknesses is a rush end/OLB. I'd love a Robert Nkemdiche or Joey Bosa on this squad. But we'll probably get a backup guard to fortify the offensive line's second unit.
In hindsight Pettine going for 2 wasn't the best decision. If it would have worked it would have been genius. But it didn't and now he'll have to answer to his critics. (I liked it at the time)
McCown. McCown. McCown. What are you doing, man? That pick-six plus the INT at the end of the game was inexcusable. Denver has one of the best defenses in the league, at least make them work for it. We knew coming into the game that Josh wouldn't put up the numbers that he did against Baltimore last week but he needed to play smart football.
I'd pay good money to get one of those biceps veins that Robert Turbin has.
Mingo!!! Biggest play of his Browns career. Would have been the hero if the Browns were able to capitalize.
Travis Benjamin continues to impress us all. 9 catches for 117 yards. It's almost expected that Travis will be around 100 yards every game. His progression has been fun to watch.
The Browns could easily be 4-2. The haves and the have nots.
All of us today: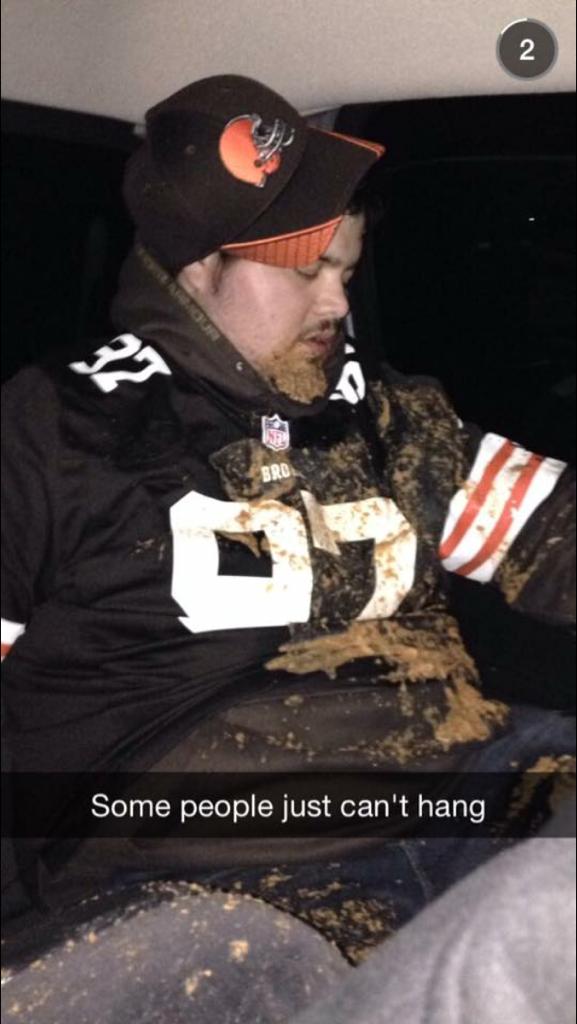 On to St. Louis.