Former theoretical Indians catcher Jonathan Lucroy hit a tailor made double play ball to short in the 5th inning of last nights game. Francisco Lindor charged it and flipped to Jason Kipnis at second. Kip successfully completed the twin killing, but not before getting taken out by the Rangers player sliding into second base. That player happened to be serial instigator Rougned Odor. Hilarity ensued:
For reference, from earlier this year: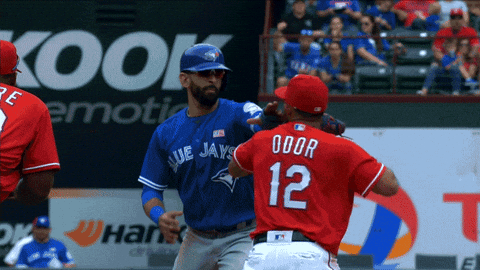 Ended up being hilarious, but my god that took some serious nuts from Kip there. How is he gonna take the joke? What if he jammed his finger sliding so he's pissed off already, then he sees you ready to fake fight & takes you up on your offer? The Rangers were up 8-0 at that point so it wasn't exactly a white knuckle moment of the game but you never know with little powder kegs like that. They can blow at any time.
Right when this happened, I got excited. Not because of the play itself, or anything having to do with the game. I got excited thinking about the arguments I would get to have with people who weren't watching because it was a blowout but then would wake up to see this clip and immediately start bitching about Kipnis joking around with the other team when he's down 8-0. Honest to God, I could hardly sleep.
So send those arguments over to @Bottlegate plz. It's baseball, the season is 162 games long. We're in first place. The fact that Kip even thought to do this instead of pouting and running back into the dugout with his head down because we were getting crushed should actually be lauded.
"You shouldn't take life too seriously. You'll never get out alive." – Van Wilder
Bonus post game quotes from Kip. He crushed that as well.
KEEP THE CHIEF