Well then. That was fun. That's something I really enjoyed. I could get used to that. Winning playoff games is pretty fun.
The Cavs shook off some first quarter rust, went to halftime tied, then took off in the second half and never looked back. LeBron had his normal ho hum 31, 8, & 6; Tristan and Mozgov each had a double-double; Kyrie the gimp added 10; and JR was on fucking fire hitting every single 3 pointer imaginable to the tune of 28 points and the Cavs won their first game 1 road playoff game in team history.
Let's look at the game tape
In pregame Mike Miller knew he probably wouldn't play so he decided to shoot threes and not miss
Delly! Whoops!
LeBron stepped on a cameraman's foot and there's a good chance we never hear from that cameraman again
Something happened in the second half. That something was JR Smith.
Bad moment here with Demarre Carroll's knee. Hopefully he comes back this series.
The Cavs built a big lead, LeBron dicked around in the 4th quarter, the Hawks got it close, and then LeBron did this
And Kyle Korver did what we all would have done in that situation
Couple quick thoughts:
– JR Smith. Damn you JR Smith.
Keep shooting you beautiful bastard! psst he was also shutting down Kyle Korver & Paul Millsap.
-Tristan Thompson played 42 minutes last night which was more than other player on either team. Tristan Thompson had the most minutes played in an Eastern Conference Finals game. Just let that sink in. This man is getting PAID this summer.
– The real MVP of the game was this beautiful haired and bright eyed hooligan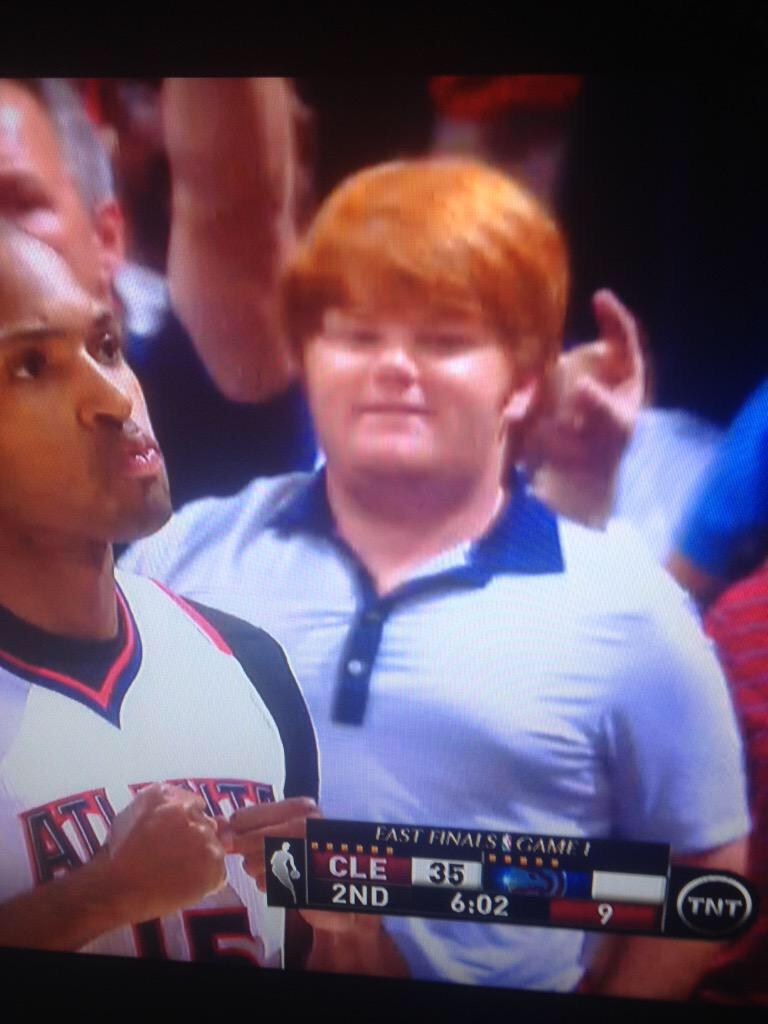 – Delly really followed up all that good pub from game 6 in Chicago, huh? With Kyrie out, we'll need him to play somewhere in the middle of last night's game (0 points) and game 6 in Chicago (19 points)
– The loss of Demarre Carroll really really hurts the Hawks.
– Why was Paul Millsap checking LeBron at halfcourt? Bro, don't try and be a superhero.
– I'm not addressing whatever the fuck LeBron was doing in that stretch of the fourth quarter. I don't know what it was but I don't think he'll be pulling that again.
– Man how nice was it actually watching basketball last night and not having to pray on Tuesday that the ping pong balls bounced our way?
– Let Dennis Schroder shoot elbow jumpers ALL GAME LONG.
– Our bench played alright and notched 28 points in the game. JR Smith came off the bench and scored 28 points. JR Smith was our only bench player to score.
– Jeff Teague is better than I thought. Clearly this is going to be the hardest match up the Cavs have to work through. With Kyrie hobbling + Teague's speed, Coach Blatt is going to have to draw up a defense to limit Teague's blow bys and drives to the hole.
– After 2 emotional and heated playoff series against 2 hated teams, I just can't bring myself to hate the Hawks. There's just nothing about them that gets my blood boiling. The good thing is that there's at least 3 games left and this could all change.
– The Atlanta Hawks organist is the best thing about Atlanta.
– Geez. Clean it up, girl. (this is probably how I'll be when I see Shaq Sunday night at Barley House)
– I'm not a Hammer hater like most of Cleveland but c'mon dude, you don't have to play the negative character every second of the day. Sometimes it's nice to sit back and enjoy great performances by your players.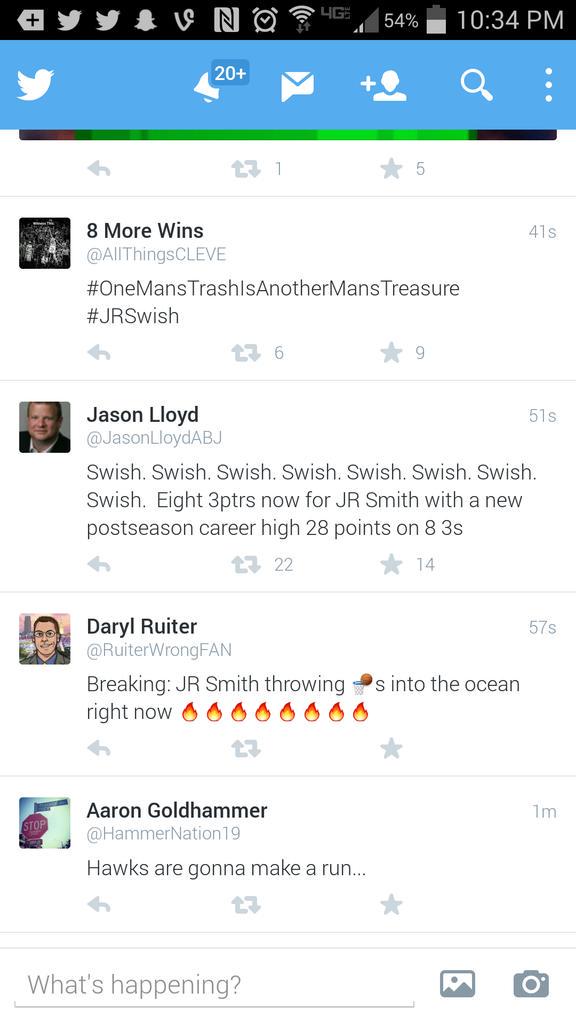 – You'd think Charles would know how to pronounce Dellavedova by now…. but NOPE!!
 – Almost put Kent Bazemore's dunk in here. Nope. If it doesn't make the Game Tape then it really didn't happen.
– God bless JR Smith. God bless that man.
See you guys on Friday.
Cavs in 4.