BOTTLEGATE EXCLUSIVE. A "tipster" in the Bahamas found a copy of LeBron's Travel Diary on the beach and sent it in. According to the tipster, the original diary was typed in Comic Sans.
8:00  Just woke up. Pretty hungover from Wine Night with the boyz yesterday. Things got pretty crazy.
8:15-8:30  Was just scrolling through Instagram looking at some perfect booties when D-Wade's pic came up. NO WAY he remembers this, we were pretty bombed. Why is Chris so pissed? Melo is so faded. Ha!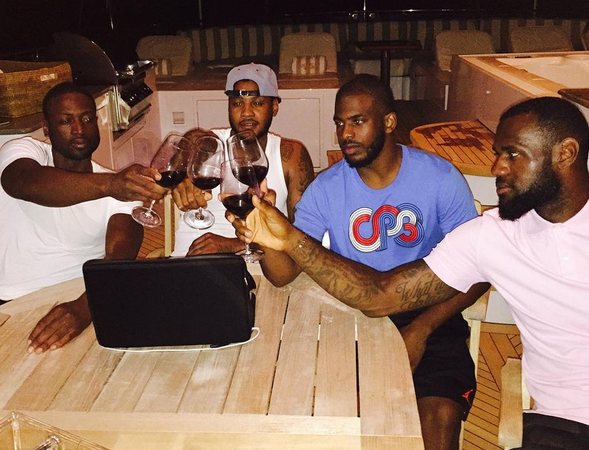 8:30-9:30  Joined CP3 for breakfast. He bitched about DeAndre Jordan the whole time! He also made fun of Blake Griffin's hair. I told him Glen Davis was his starting Center and that shut him up real quick. He looked like he was about to cry. Poor Chris.
9:30-10:30  Sat around the pool with the other 3 and listened to Carmelo's conversation with his wife LaLa. That bitch cray.
10:30-11  The conversation switched to James Harden and Khloe Kardashian. The group wondered why the MVP Runner-Up is going after the ugly Kardashian. Carmelo made a Scott Disick joke. Chris Paul admitted he's watched the Ray J/Kim K film multiple times. I saw it once, it was "meh."
11-12  Banana Boat with the crew. Carmelo doesn't join us in the water again because he's read about too many shark attacks in the news. There's a reason why we all sat behind Gabrielle…  #ass
Owned CP3 in our "Quad-Off" too. Check my legs compared to everyone else's #StriveForBigQuads
(photograph courtesy of Melo)
12-1  Chris Bosh roast session. We went IN.
1-2  PARASAILING TIME BITCHES!!!
2-2:15  Chris Paul gets a text on his phone. Says he's "Gotta go save DJ." Weird. He immediately packs up and leaves.
2:15-3  Laugh at Bomani Jones and Chris Broussard's Twitter argument about abstinence. We anointed Broussard as "King of the Squares"
3-3:10  I prank call Broussard a few times pretending to be Dan Gilbert, Joe Johnson, a hooker, and Phil Jackson
3:10 -3:30  We start chatting about my new movie "Trainwreck," Dwyane poses a question and asks the group what they think of Amy Schumer. The group describes her as a "PAWG" and definitely "do-able." I tell them I brought a copy and we're DEFINITELY watching it tonight.
3:30-4:30  Chill in my room and watch Shark Week. Get some texts about emojis or something. Don't know what they're talking about.
4:30-5:30 Nap So Hard 
5:30-7:30  Pre-Screening of my new flick Trainwreck in my private cabana. Invited tons of chicks. Everyone LOL'ed so so hard at my "Sexual Intercourse!" line. Pretty sure I'm the next Denzel.
7:30-7:40  Just remembered what I did exactly 5 years ago today. OOPS! Sorry Ohio.
7:40-8  Got dressed for dinner. White tees on deck! Bout to smash so much food.
8-9:30  Dinner at our All Inclusive resort. Tried so many different foods. Dwyane and I started making fun of Carmelo for tanking and then drafting that bum Porcupine or Porzingis or whatever his name is. Carmelo muttered something that sounded like "yeah, because the triangle fucking sucks" then stormed off to his room.
9:30-10:30  Pregame with Dwyane and Gabs. Ciroc and LeBron's Sprite Remix on deck!
10:30-12  So turnt right now. Writing this and can barely see straight. Just got a text from Chris. He said he gave DeAndre like 10 high gives in their meeting. Haaaaa!!!! BTW, what's up with TT's contract? Can I sign yet?
12  Just got fooooood. Club was lit. Taking my talents to sleep now. Zero Dark 23 activated.