ANNNNNDDD we're back! After 9 months off the Buckeyes hit the ground running and reminded everyone in the country just how disgusting their offense can be when it's hitting on all cylinders… And it wasn't hitting on all cylinders. 0 points in the second quarter yet still ending up with 42. Oh, and did I mention we were missing 3 wide receivers and arguably the best defensive player in the country. Just another day at the office.
First football Game Tape of the 2015 season and… here… we… go…
Virginia Tech with the hilarious (jk not hilarious at all) signage before the game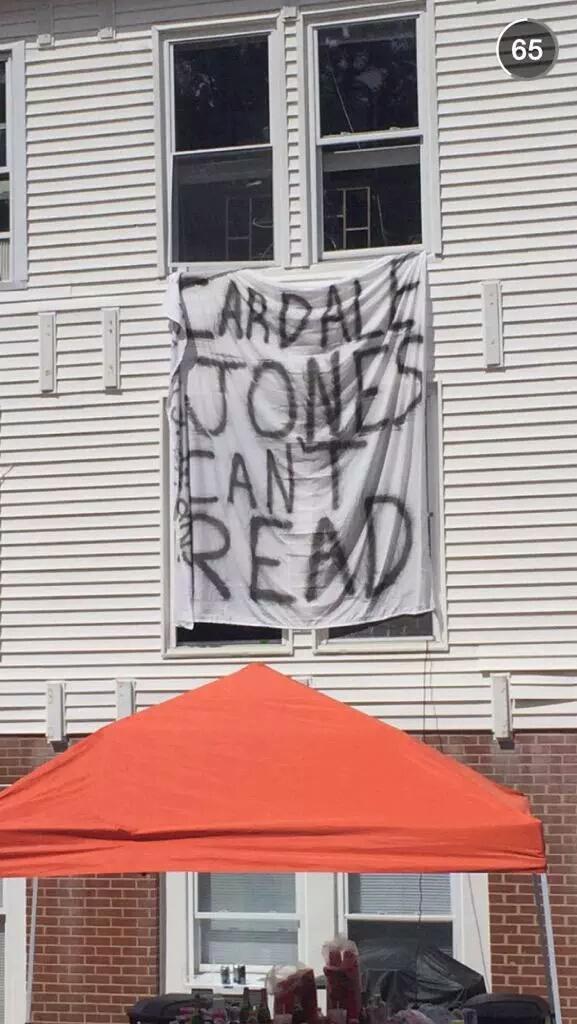 This one was pretty funny though even though the whole "Drake album art" thing is getting a littttttllleee played out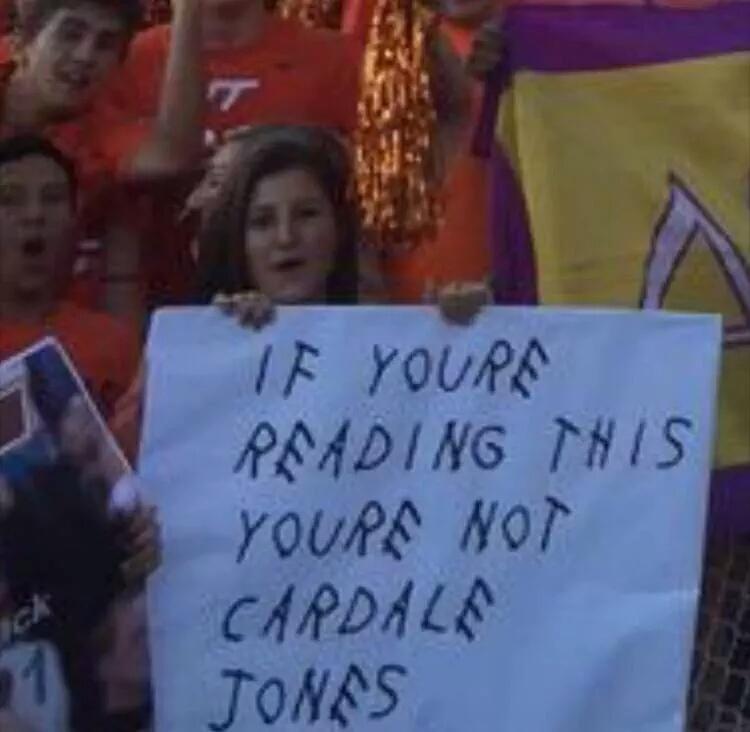 Ronda Rousey chimed in on who she thought should be under center for Ohio State
I'll give credit where credit is due; Virginia Tech coming out to Enter Sandman is one the cooler sights in college football
The biggest question in college football was answered when Cardale trotted out on the field to take the first snap of the season. Everything leading up to this game seemed to lean towards JT getting the nod but Urbs chose to go with 12 Gauge.
Cardale got things started with a nice little toss off his back foot to Curtis Samuel for 6.
Virginia Tech's running back wore a gold watch which is apparently legal… When ball is life but you need to keep track of the time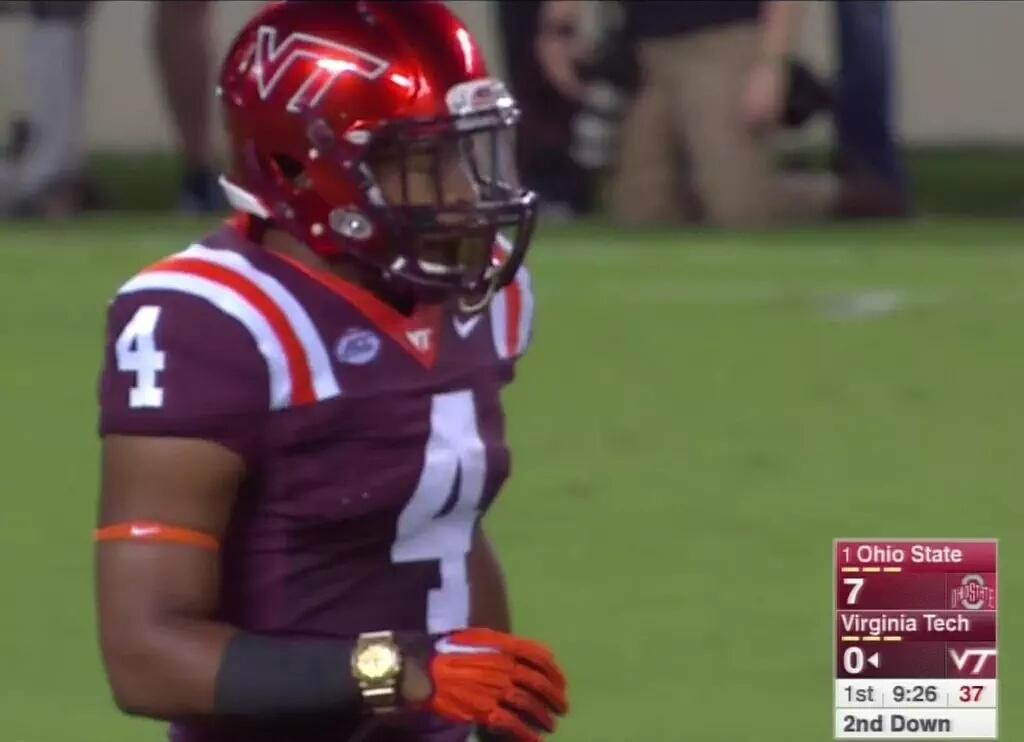 Zeke's first carry of the 2015 season was pretty good and went for 80 yards and a touchdown.
I think Braxton is going to be just fine during this position change
The "Oh shit we have to open against the #1 team in the nation" face. Or the "I just pooped my pants on national TV and it smells" face.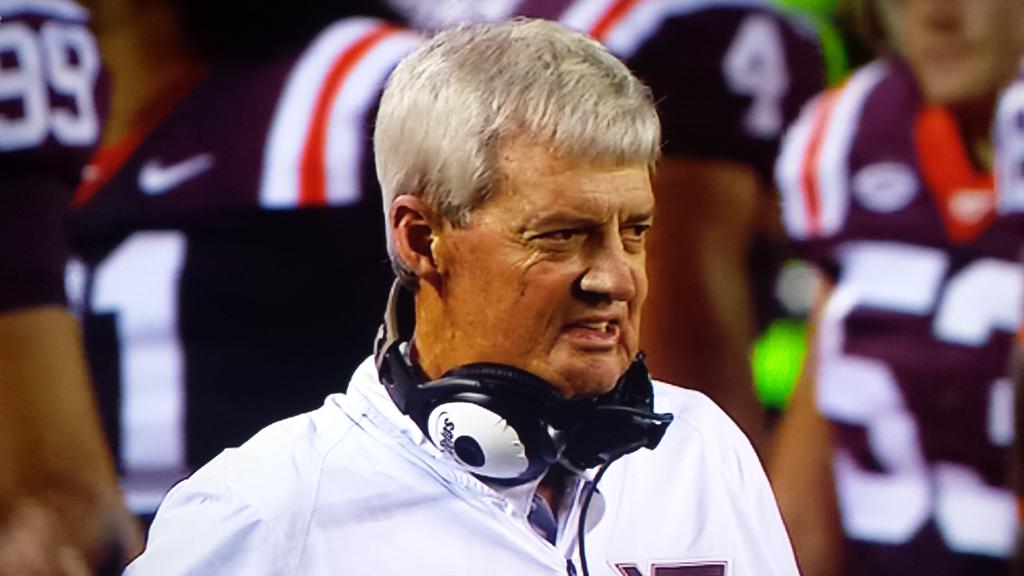 Things got a little hairy in the 2nd quarter when Peyton Hillis Jr. ran a wheel route and juked Eli Apple out of his cleats for a touchdown
Cardale made a questionable decision and got picked off which led to a Virginia Tech field goal
The second quarter turned out to be pretty gross for the most part. Bucks didn't score a point and Virginia Tech turned a 14 point deficit into a 3 point lead going into halftime.
With Jalin Marshall out, Zeke was back returning punts… and, well, he botched one which gave Va. Tech the ball
Virginia Tech would punch it in on a third down throwback pass (hate this type of play BTW) and the Bucks would go into halftime down 17-14.
And then Buckeye Twitter lost their minds at halftime. A couple people clamored for Luke Fickell to be fired, some people even wanted Urban Meyer to get fired. You know, the same Urban Meyer who JUST won a National Championship. Never change, Buckeye fans.
Then the second half happened.
3rd play from scrimmage after haltime and Cardale flicks his wrist to (FORMER QUARTERBACK) Braxton Miller. Braxton stays on his feet and scores 6. Like I said before, I think this position change is gonna work out pretty well
Worst foreshadowing ever. Brewer got ROCKED and this hit knocked him out of the game for good with a broken collarbone.
Braxton Fucking Miller.
For some reason there was a guy holding a banana
I'll be honest, I DID NOT think Braxton's first game at receiver was going to go this well. I think it's safe to say he surpassed all of our expectations. Here's some more sexiness in GIF form:
Cardale walked in for 6 and the rout was on.
And for good measure, the Big Ten record holder for TDs in a season (and our backup QB) came in to throw a  passe in some mop up time… Which led to Mike Thomas giving a dirrrrty stop and go that broke Va. Tech's best corner's ankles. Man…
Good win. Good start to the season. Goodnight Virginia Tech.
And #WereOnToHawaii
PS: lol mark