Browns win!
Obviously we all want the #1 pick and say we want the Browns to lose to secure it, but once that game starts I can never bring myself to actively root against the Browns. As things stand now I just want to see a team that hasn't given up and whose young players are making progress (Manziel).
Let's look at the game tape.
Not the fullest house at kickoff
Swagger looked good as always
Johnny signed a $100 bill before the game. This was when I knew the Browns were winning this game.
I would've used a $1 or $5 bill but whatever floats your boat I guess.
Not big fans of Dwayne Bowe or Ray Farmer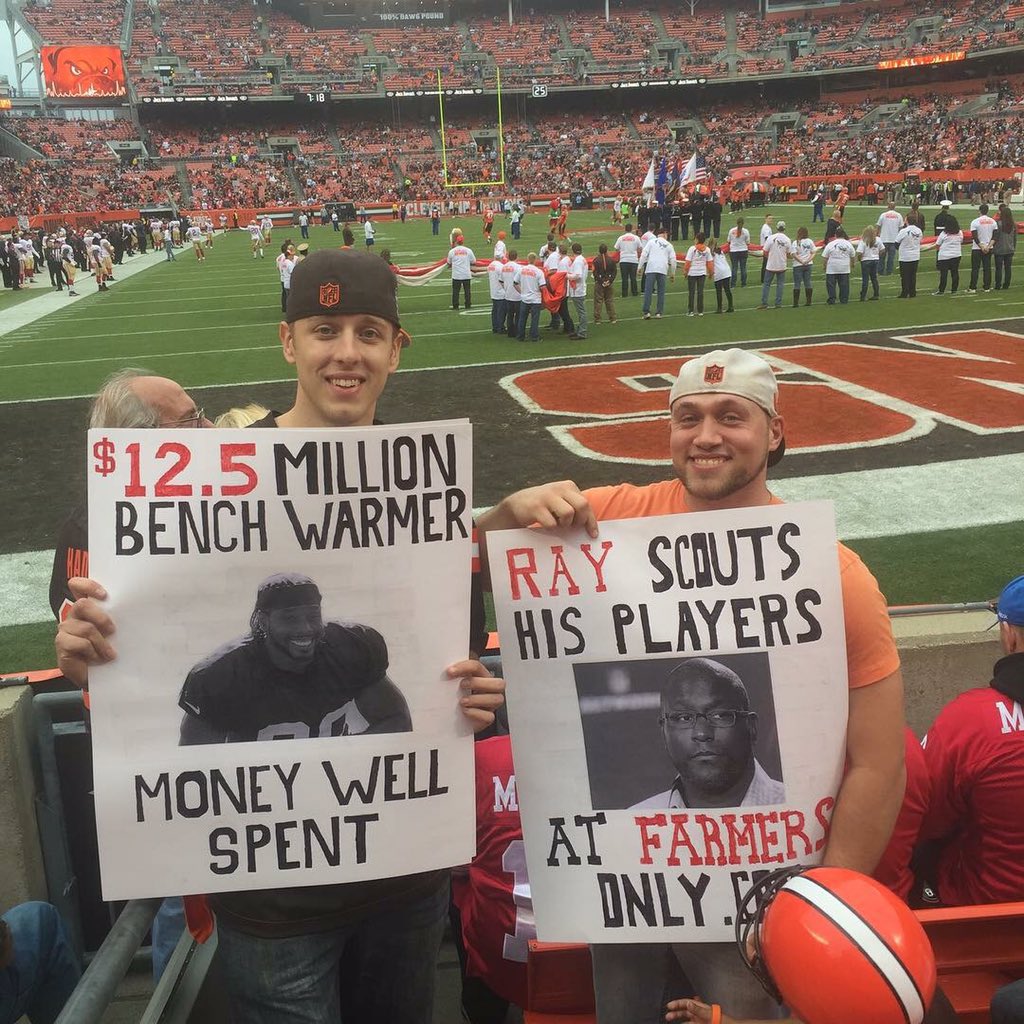 Cocky Johnny was back!
He threw a bad interception and boy, he let this Microsoft Surface tablet have it. Stupid piece of technology.
Maybe the most underrated part of the day was the Independence Day trailer just dropping out of nowehere
A legend returned.
Couple dudes smoked some weed. It didn't end well.
Barnidge backed up that big contract signing
"Pasztor, good fucking job!"
Dwayne Bowe gonna Dwayne Bowe. Unreal move here.
The Big Sumbitch was EVERYWHERE
First win in 63 days and first win in December since 2012. Enjoy it, you assholes.
---
Now to Manziel, because nothing else matters really:
Were his numbers a little inflated because the 49ers are ass? Yeah, a little bit. The 9ers stink. But don't look at his numbers. Look at the way he stayed in the pocket. Look at the way he only ran when he had to. Look at the way he interacted with his teammates.
Are we allowed to get excited that maybe, just maybe, a quarterback that the Browns took in the first round is showing actual progress on the field? Yes.
Are we allowed to worry that we'll wake up Monday or Tuesday morning and see his drunk mug plastered all over the Internet? Yup. As of right now I'm a billion percent more concerned about Johnny off the field than on the field.
It's OK to have a little positivity after yesterday's game, it really is. Watching Manziel on the field is so fucking fun. Just compare the Bengals game with Austin Davis to yesterday's 49ers game. Yesterday we saw some Texas A&M Johnny. Talking shit, signing that $100 bill before the game, pumping up his teammates. This is what I've been waiting to see since he's gotten here. The kid thrives on chaos and when he plays cocky, he plays well.
Newsflash- it's a good thing if the Browns don't have to take a quarterback with 2016's top 5 draft pick, I promise you. If you're a fan of the Browns, you should be rooting for him to show real progress in these next 3 games. Will it be enough to keep him around? Who knows. But going into an offseason where we know who the starting quarterback is hasn't happened to this team in a long time. I don't know what the future holds, but I know yesterday was fun.
On to Seattle. In Seattle. Ehhh