The ESPYS. ESPN's fake awards show dedicated to sports during the most boring sports week of all year. I'll be watching. You'll be watching. We'll all be begrudgingly watching. There's not really any hot topics like last year's show (Caitlyn Jenner) but hopefully something cool happens. I can just picture Steph and Klay being handed some arbitrary award and BAH GOD here comes LeBron in a suit leaping from the crowd and giving Steph one of his patented chasedown blocks as the presenter hands Steph an award. The trophy shatters into a thousand pieces. Klay Thompson leaves the stage without shaking anybody's hand and then Bron gives everyone this look: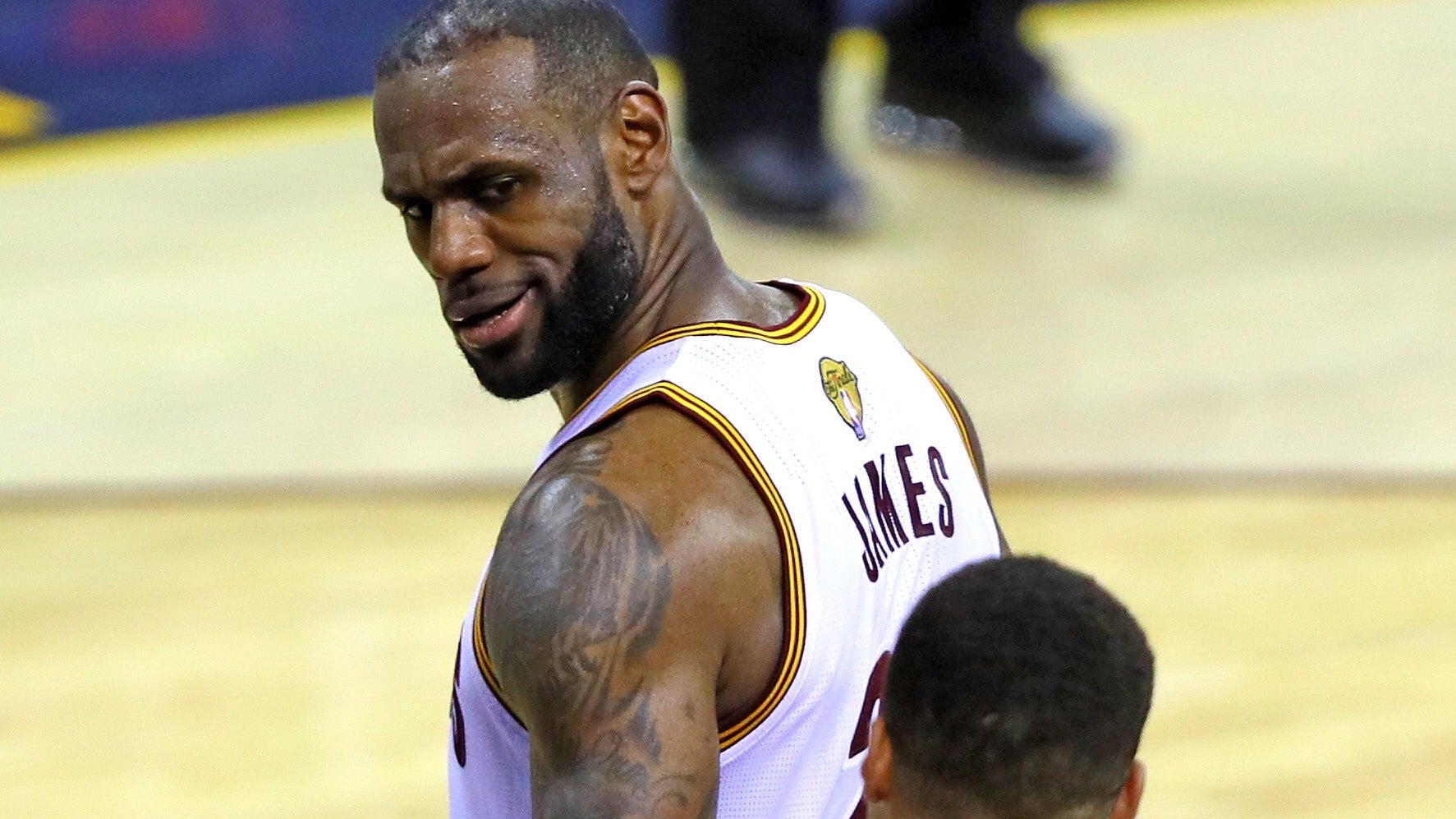 But anyways.
We wanted to add a little flavor and came up with our own Cleveland themed ESPYs
The… CLESPYs? (sorry)
Best Athlete (Besides LeBron)
Mike: Kyrie Irving
Kyrie droped 41 on the road in an elimination game and then in game 7 he hit the franchise's/city's/state's biggest shot ever. He did things during this playoff run that almost made me break my DVR because I rewound my TV so much. He missed a good chunk of the season but is still my pick for best athlete (besides LeBron)
Austin: Francisco Lindor
Kyrie is the easy pick, and he's certainly deserving. My take is, basically you have a very good point guard who missed 35% of his team's regular season versus a guy who has been one of the best shortstops in all of baseball from the second he was called up to the big leagues a year ago. Definitely understand taking the guy who hit the biggest shot in Cleveland sports history, but I think there's a solid argument for Lindor there.
Best Championship Performance The LeBron James Award
Mike: LeBron obviously
Austin: LeBron
Best Breakthrough Athlete
Mike: Stipe Miocic
From being relatively unknown by the general public to winning the UFC Heavyweight championship in Brazil and being the first car in Cleveland's championship parade. I'd say it was a pretty good year for Stipe.
Austin: Gary Barnidge
Gary Barnidge was a tight end who had 44 receptions and 38 total tackles in his NFL career heading into 2015. 79 catches, 1,043 yards and a Pro Bowl selection later, he's one of the lone bright spots on the Browns and my Best Breakthrough Athlete.
Best Record Setting Performance
Austin: Indians 14 game winning streak
You play. To win. The game.
They won more consecutive games than any team in the history of the franchise.
No further questions, Your Honor.
Mike: When the Cavs buried and NBA record 25 three pointers vs the Atlanta Hawks.
They broke the record for 3s in a playoff game, 3s in a half (playoffs & regular season), and 3s in a game (playoffs or regular season) This also caused the grown men on the Hawks to cry because the Cavs made too many shots.
Best Upset
Austin: Cavs over the Warriors
Is doing something that only 32 teams in the history of professional basketball have tried to do, and something that exactly 0 teams in the history of professional basketball have succeeded in doing, good?
Mike: Cavs over Warriors
This is the obvious pick. I tried my hardest to think of something else but couldn't. Stipe Miocic knocking out Fabricio Werdum in Brazil to win the heavyweight title is a worthy runner up so here's a video of that:
Best Game (Besides game 7 of the NBA Finals)
Austin: Game 4 of the Calder Cup Finals
The drought-ender after the initial drought-ender that led to the ultimate drought-ender. We're from Cleveland, people. Beggars can't be choosers. A 'ship is a 'ship is a 'ship. And this one was won on a last-second game-winner in overtime.
Mike: Browns Monday Night Football vs the Ravens
Nationally televised game. The Browns are lining up for a last second field goal to win the game. The snap is down, the kick is up-
HOLY SHIT. This was just an unreal way to lose a football game. It also gave us this:
And brought back memories of one of my favorite blog posts of the past year
Best Play (other than The Shot)
Mike: Kevin Love's defense on Steph Curry
I'm a Kevin Love apologist. With all the shit he went through during the Finals and all the criticism he faced, he stepped up in the biggest moment. 1 on 1 vs the back to back unanimous MVP with a city's championship dreams on the line. A lot of people will probably forget about this routine defensive assignment in the long run, but this play will stick with me forever.
Austin: The Block
When your city wins its first major sports championship in 52 years, that team is a good bet to dominate a list of awards like this just like they dominated the Golden State Warriors in the NBA Finals ahthankyou. Although I'm not sure it would have mattered if this play was Game 7 of the finals or a January scrimmage against the Nets.
But we tend to (never) go above and beyond here at Bottlegate. So for fun, here's my non-Cavs pick: Francisco Lindor dive and flip to Jose Ramirez
Best Moment
Austin: LeBron after the final buzzer of Game 7
That was about as close as it gets to seeing the actual weight of the Planet Earth lifted off of someone's shoulders. It was pretty cool to watch when I got home from reacting the exact same way with thousands and thousands of friends in the streets of Downtown Cleveland.
Mike: Just one?
Most Underrated
Austin: Carlos Santana
Don't look now, but seemingly one of the most popular scapegoats of Indians fans over the past couple years is putting together a monster year. Santana's 20 first-half home runs are already more than his club-leading 19 from 2015 (the first Indians player to hit 20 before the All-Star break in 7 years). He's also second on the team in RBI (49), OPS (.848) and third in runs (52). The RBI are even more impressive seeing as most of his at-bats have come from the lead-off spot. And oh yeah, his batting average is 18 points, OBP is 8 points, slugging percentage is 31 points, wOBA is 13 points and wRC+ is 10 points higher in the second half during his career.
(stats from this Zack Meisel article)
Mike: Joe Thomas
He's not underrated at all but I felt there was too much Cavs and Indians love in this blog post so I needed to recognize the best player on our dear football team.
Tell us what you agree or disagree with