Alright alright alright. So I was sitting around with my buddy a day or two ago and we were playing the hypothetical game. Bouncing dumb questions off of each other- "If you could have one animal's 'powers' what animal would it be?" That sort of shit. (speed of a cheetah, obviously)
We got to sports and LeBron came up and my friend asks me "Would you trade LeBron right now for Cam Newton?" LeBron goes to the Hornets, Cam Newton comes to the Browns. Had to think about it a few seconds and I don't think it's as black and white as some people think.
So before I catch this Internet fade and all the dorks respond to this post with "OMYGOD WHY WOULD YOU EVEN SAY THAT," my suggestion is to lighten up a little and actually think about the question.
Yesterday I even made my first Twitter poll and asked the esteemed and scholarly Bottlegate Twitter followers if they would make the trade. About 1/3 said yes and 2/3 said no. Really thought it'd be more of a blowout in favor of LeBron and it even hovered around 45/55 for like the first 300 votes.
So here we go:
The case for LeBron:
He's the best basketball player on the planet and the player of our generation
The biggest physical freak in his sport
The Cavs were 2 wins away from hoisting the Larry O'Brien trophy when he put the team on his back in last year's Finals
He's LeBron
He may be past his "prime" but he's still putting up a nonchalant 25 ppg, 6.4 apg, and 7.2 rpg
Pencil in the Cavs to represent the Eastern Conference in this year's NBA Finals
He's the driving force of the team that has the best chance to end Cleveland's championship drought
The face of the league
Is only 1 of 5 players on the court that can affect the game
He's LeBron
The case for Cam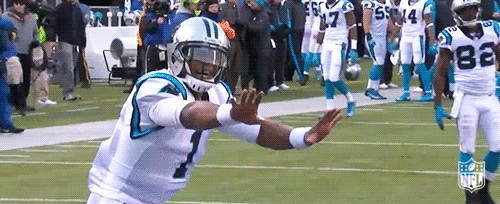 Cam Newton is the most "must watch" football player on the planet. (He also may be the best)
He'll be named the MVP on Saturday
He's not in his prime yet
He's only 26.
He plays the most important position in sports
A physical freak where other players at his position aren't physical freaks
Hue Jackson + Cam Newton = Boner Jams '03
You'll have a legit 10 more years of him as your team's starting quarterback
Cleveland is a Browns town
Will be the face of the league (if he's not already)
A good starting quarterback is something Browns fans haven't experience since the 90s
Cam + Josh Gordon?
I'll be able to make "dab" shirts in Brown & Orange and become a billionaire
Cons of LeBron
He's 31 and his body has logged about a billion miles and taken an absolute BEATING
He's past his prime. At least that's what the "experts" tell me (the experts usually tend to be full of shit)
There's a team out west that seems to be a dynasty in the making which may prevent the Cavs from winning a title or two
There are still people in Cleveland that have a disdain for him
Cons of Cam
He dances (lol jk)
He's only 1 of 11 players on the field at once
His defense is the 2nd best in the NFL
A season like he had this year is not promised in the future
Football injuries/concussions cutting short someone's career are always a concern
I don't think I'd do the deal but I'd be lying if I said it wasn't tempting as hell. The Browns finally get their quarterback and it just happens to be arguably the best quarterback in the league. The Browns instantly become must watch television with Cam under center, Josh Gordon split out wide, and Hue Jackson calling plays.
Obviously this is a "grass is greener" thing since the Cavs were 2 wins away from a championship last summer. I'm sure the people of Charlotte would decline this offer also and keep Cam in a Panthers uniform. If you're a Browns football guy or you like to watch the world burn, you probably do the deal. If you're a Cavs basketball guy, you probably don't do the deal.
PS- Ain't nobody fucking with me in Microsoft Paint