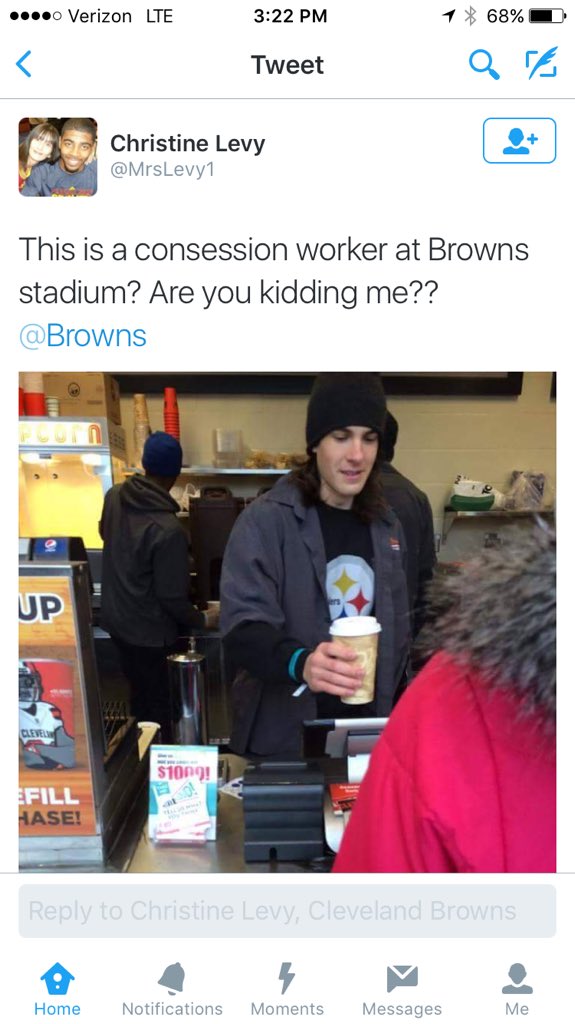 Lost in all the craziness of this Browns weekend was this dude wearing Steelers gear while working the concessions at a Browns game. Look, I hate this move. Absolutely hate it. But I have no choice but to respect it. If a Browns fan pulled this off at Heinz Field I'd be clamoring for the city of Cleveland to rename a street after him.
If the Browns organization wasn't currently imploding and on the verge of doom then maybe I'd have stronger feelings for this guy, but I just don't. I'm actually shocked that no Browns fans threw a beer in his face. But that's just where the Browns are at right now. Thousands of terrible towels in the stadium yesterday, Steeler fans working concessions… it's a joke. Think this happens in the 80's/early 90's? No way. He'd probably be pegged with hundreds of dog bones and then sacrificed to the fine, understanding patrons of the old Dawg Pound.
He then backed it up on Twitter:
Ballsy move.
Maybe the best response of them all: