The 2015 Super Bowl commericals were kind of meh. Every year you go in expecting these amazing awesome commercials and every year you're always left disappointed. We had kids dying, Fiats getting boners, pigs flying, lost dogs, and movie trailers. Here's the top 13 ranked:
The dumbest:
McDonald's Payment thing
Dumbest commercial ever. Here, take my dollar and hand me my McChicken, please. McDonald's has really been trying hard at this "heartwarming commercial" thing and each one has backfired and been met with criticism. Everyone knows your food is unhealthy as fuck. Quit trying to be something you're not and let me enjoy my Quarter Pounder and fries. I know it's bad for me and I'm still going to willingly eat it.
The Best
13. Jeff Bridges Squarespace
Still don't know what Squarespace is but anything with The Dude creepily humming next to a sleeping couple always makes the list.
12. Jurassic World Trailer
Can't. Wait.
11. Nationwide Dead Kid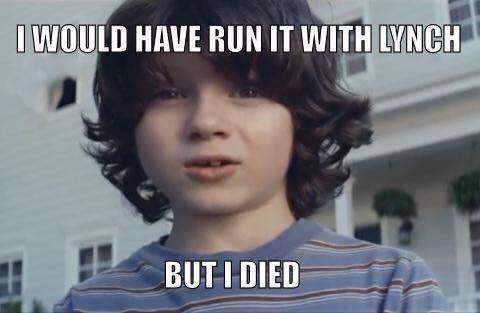 This commercial went 100 to 0 real quick. What the fuck, Nationwide? Biggest stage in the world and you hit us across the face with this?
"I hope you're enjoying this Super Bowl between two great teams but don't enjoy it too much because right now your child could be taking a bath and he's probably going to drown and die a terrible slow death. Now here's some insurance you can buy."
This by no means is an endorsement of this commercial but you can't deny the impact it had. By far the most talked about commercial of the night.
10. Carl's Jr w/Charlotte McKinney
Carl's Jr. introduced an all natural burger. Hey Nationwide, let's follow the script from Carl's Jr. here… Instead of dead kids depressing everyone how about we use burgers & hot swimsuit models that make everyone happy?
9. Snickers Brady Bunch
Solid B.
8. Loctite Glue
7. Avocados Animal Draft
Just great execution all around. Can you imagine the numbers the kangaroo probably put up at the combine?
6. Doritos pigs fly
Good stuff. There's a Browns/Super Bowl joke in there somewhere.
5. Skittles Arm Wrestling
If we're being completely honest the first thing I thought of was Family Guy and the Quagmire internet porn scene.
4. Fiat Blue Pill
Fiat coming in strong with boner jokes. Giving a Fiat a Viagra is like giving a Japanese guy a Viagra. Even when it gets bigger it still doesn't handle well, leaves the driver unsatisfied, and is still pretty small.
3. Doritos Middle Seat
Anyone who's ever flown knows the horrors of sitting next to a passenger from hell on an airplane. You're always next to the guy who takes up the armrest and whose belly fat spills into your seat.
2. Microsoft Braylon O'Neill
Awesome. And I thought I was brave for going out in last night's snowstorm to pick up pizza. Cheers to this little guy.
(I thought this was gonna take a very dark turn after that Nationwide commercial)
1. Budweiser Lost Dog
Was there ever a doubt? Americans love puppies, the Budweiser clydesdales, and happy endings. Anheuser Busch hit it out of the park per usual.